Automatic Recurring Payments
Payments will be automatically deducted from your bank account or debit/credit card. Your scheduled payment frequency will default to the payday frequency you specified on your application.
Payment Changes
To learn how to change your payment method, click here. To learn how to stop or cancel a payment, click here.
One-Time Payments
In addition to your automatic payments, you can make one-time payments online or over the phone with our automated system. Any payment made with a card will go toward your upcoming payment(s). Any payment made with a bank account (ACH), will be in addition to any scheduled payments and scheduled payments will continue to process.
Making a Payment Online
Click here to login or create your account.
Once you're logged in, click 'Make payment' (Ex. 1) on the account you'd like to make a payment on.
Select the payment amount you would like to make (Ex. 2)

Custom payment amount: this option allows you to choose the amount of your payment. This is an additional one-time payment and may replace your next scheduled payment
Standard payment amount: this is the amount of your recurring payments. This will replace your next scheduled payment if it's made more than 3 business days in advance.
Early purchase option amount: this amount will pay your account in full.

Verify your payment method. (Ex. 3)
Submit your payment.
Ex. 1 Ex. 2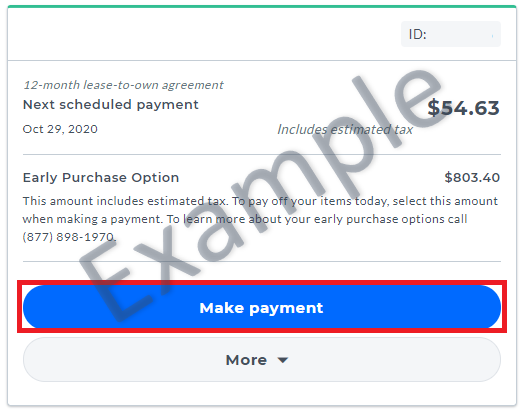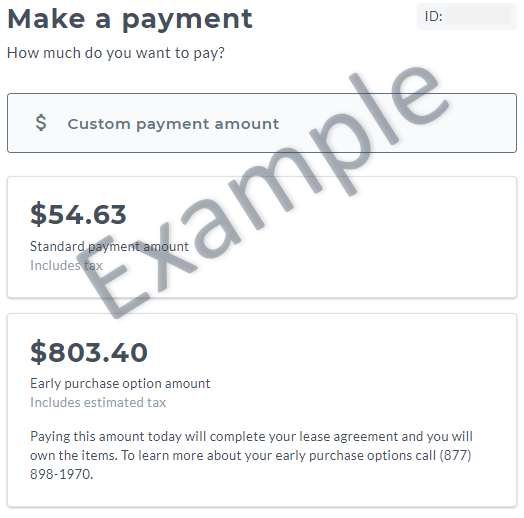 Ex. 3